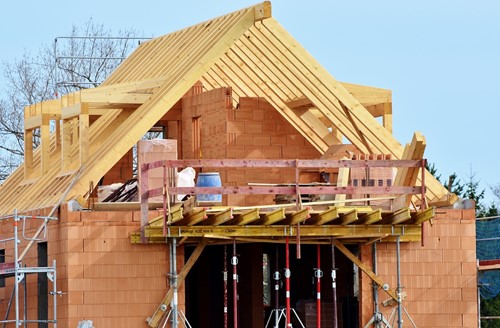 Image by Capri23auto from Pixabay

It's not unusual for homebuyers to enter the market with some preconceived notions about the differences between an existing home and new construction. These may be formed by talking to friends and loved ones about their successes and challenges. Others come from media sources, including the seemingly endless stream of reality home shows.
Regardless of how your ideas have been formed, it's in every buyer's best interest to conduct some due diligence and explore the gaps between opinions, myths, and real estate facts. Weighing the following pros and cons of new construction may help you hone your understanding and make a truly informed decision.
1: Home Customization May Be An Option
It's important to distinguish between two types of new construction. There is the type in which you work directly with a builder and architect to design a home unique to your standards and desires. There's also the type in which the house is already built, and you would be the first occupant. The idea that buying new automatically delivers input into the design is only reserved for the former. If you want control from the drawing board to turning the key, that can certainly be achieved by enlisting an architect and construction outfit.
2: New Home Customization Can Be Expensive
While adding all the latest Smart technology and energy-efficient products can provide the quality of life you are pursuing, these items do come at a premium. Some estimates place Smart technology options at a 30- to 50-percent higher cost than conventional appliances and devices. New construction costs also hover at approximately $150 per square foot and can uptick considerably if you plan to integrate high-end materials or unique floor plans. Customization can certainly result in the dream home you imagine. However, there may be a nightmarish price tag included.
3: New Home Construction More Energy Efficient
Energy expert resources generally agree that new homes and those built after 2000, are widely more energy-efficient than those built in the 20th Century. New construction living spaces utilize and estimated 20 percent less energy, on average and new HVAC systems could outpace older homes by as much as 50 percent. That equals real dollars and cents savings on monthly utility bills and annual home expenses.
4: New Construction May Lack Quality Materials
It's an open secret that the construction industry utilizes more inexpensively crafted materials than older homes. For example, many new construction homes present the image of hardwood flooring at first blush. But upon further review, the materials used are sometimes floating flooring or far thinner than yesteryear oak and other hardwoods. While new construction usually likes quite shiny, the materials to build it may lack the durability and luster of older existing homes.
5: New Construction Is A Double-Edged Landscaping Sword
Buying a newly constructed home often means that you will have pleasure — or chore — of designing the grounds as well. The upside usually involves planning your outdoor living space precisely the way you want it. Options such as stone patios, verandas, permanent outdoor cooking stations and garden placement, among others, are all on the table.
But the downside is that a new landscape will not necessarily enjoy the robust aged trees, large flowering shrubs and deeply rooted lawns of established grounds. That may seem like six-in-one-hand and a half-dozen in the other. Those are the little differences that you are tasked with weighing when making an informed decision between new construction and an existing home.