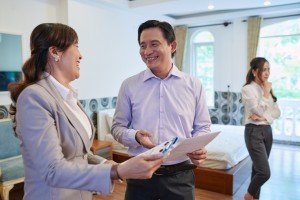 Credit is tied to most big financial decisions you will make in your life. From things as little as opening up a store card at the mall to buying your first home, your credit score is going to play a factor. When it comes to mortgages, lenders take your credit score, particularly your FICO score, into consideration in determining the interest rate that you will likely be stuck with for years. How is your credit score determined and what can you do to use it to get a better rate on your mortgage? We'll cover all of that and more in this article.
Deciphering credit scores
Most major lenders assign your credit score based on the information provided by three national credit bureaus: Equifax, Experian, and TransUnion. These companies report your credit history to FICO, who give you a score from 300 to 850 (850 being the best your score can get). When applying for a mortgage (or attempting to be pre-approved for a home loan), the lender you choose will weight several aspects to determine if they will lend money to you and under what terms they will lend you the money. Among these are your employment status, current salary, your savings and assets, and your credit score. Lenders use this data to attempt to determine how likely you are to pay off your debt. To be considered a "safe" person to lend money to it will require a combination of things, including good credit. What is good credit? Credit scores are based on five components:
35%: your payment history
30%: your debt amount
15%: length of your credit history
10%: types of credit you have used
10%: recent credit inquiries (such as taking out new loans or opening new credit cards)
As you can see, paying your bills and loans on time each month is the key factor in determining your credit score. Also important, however, is keeping your total amount of debt low. Most aspects of your credit score are in your control. Only 10% of your score is determined by the length of your credit history (i.e., when you opened your first card or took out your first loan). To build your credit score, you'll need to focus on lowering your balances, making on-time payments, and giving yourself time to diversify your credit.
What does this mean for taking out mortgages?
A higher credit score will get you a lower interest rate. By the time you pay off your mortgage, just a hundred points on your credit score could save you thousands on your mortgage, and that's not including the money you might save by getting lower interest rates on other loans as well. If you would like to buy a home within the next few years, take this time to focus on building your credit score:
If you have high balances, do your best to lower them
If you have a tendency to miss payments, set recurring reminders in your phone to make sure you pay on time
If you don't have diverse credit, it could be a good time to take out a loan or open your first credit card
When it comes time to apply for a mortgage, you'll thank yourself for focusing more on your credit score.