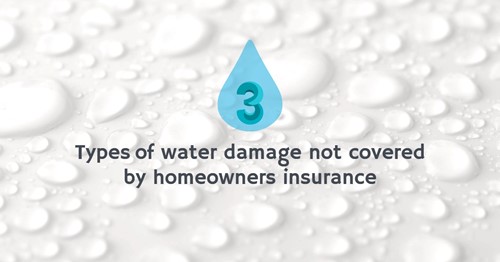 A common question homeowners have about their insurance is, "does home insurance cover water damage?" Among the myriad natural perils your home can face over the course of its life, water damage is one of the most varied. With all the different causes of water damage, it's important to know which types require an additional insurance policy.
To help you in your insurance decisions, here are three types of water damage not covered by standard homeowners insurance:
Unresolved maintenance problems
Taking good care of your home and appliances is just as critical for insurance reasons as it is for functionality. If your dishwasher breaks and damages the floors, your home insurance will help you pay for the floor repairs.
However, if the dishwasher fails because of a preexisting maintenance issue left unresolved, you won't be covered.
Backup from an outside source
Traditional homeowners policies typically do not include coverage for water damage caused by a sewer or drain backup. If your floors or another part of your home incurs damage because of a backed-up water source, you won't have coverage.
Your insurance provider may offer additional water or sewer backup coverage to help you in this situation.
Flood damage
Flooding can happen because of a storm, over-saturated ground or overflowing bodies of water. Unfortunately, in any of these cases, the resulting water damage would not be covered by a standard homeowners insurance policy.
Instead, you can purchase a separate flood insurance policy from the National Flood Insurance Program. This type of policy is required by mortgage lenders in regions where floods are more common, but can protect you just in case a flood should occur where you live.